Your Monthly Forecast
All the latest monthly forecasts, organized by sign.
Age of Aquarius
Susan Miller's astrological predictions for a new century.
Current Trends
Find out the planetary trends that might be influencing you today.
---
Capricorn (December 22 - January 19)
Your June Horoscope by Susan Miller
This month will be about receiving important new work projects, or if self-employed, you may bring in new business. You will also focus on the condition and health of your mind, body, and spirit. Despite how busy you will be, you will have time for fun too. There is a lot to do, and you can be productive, and as you get your tasks done and out of the way, you will be clearing the decks for the second half of the year that will be the most glorious part of 2016. It will be as if the universe collected all the gem-like aspects in the palm of its hand and spilled them all over August and September. Know that October through December will be strong months, too.

The month starts off on June 2 on a difficult note. Your ruler, Saturn, will directly oppose the Sun, a meeting of ice and fire, touching off concerns about your health, or about money, or both. Saturn makes us see reality, with no room for wishful thinking, but you, of all signs, cope well with Saturn, for Saturn is your ruler. When other signs are running in circles screaming like Chicken Little that the sky is falling, you stay calm and regard Chicken Little as...
To view a forecast, select a sign from the menu below and click on Go.
---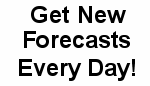 Click here to get your daily forecast
direct to your email or PC.

Hosted by: