Your Monthly Forecast
All the latest monthly forecasts, organized by sign.
Age of Aquarius
Susan Miller's astrological predictions for a new century.
Current Trends
Find out the planetary trends that might be influencing you today.
---
Capricorn (December 22 - January 19)
Your July Horoscope by Susan Miller
This month may feel as though it will focus you completely on your partner, but July will be equally as much about you, too, for you will have to decide, once and for all, what will make you happy in life.

You won't have to wait long to find out what July is all about, for the full moon of July 1 will fall in Capricorn 10 degrees, a time when a matter that's extremely important to you will come to culmination. This new moon will be a positive one, for it will come with a solid, supportive beam from Neptune. This suggests you may be able to get away from everyday cares by traveling to a nearby, yet...
To view a forecast, select a sign from the menu below and click on Go.
---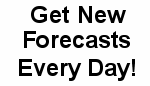 Click here to get your daily forecast
direct to your email or PC.


Fluffy Down Bedding,
Comforters and Pillows
Hosted by: